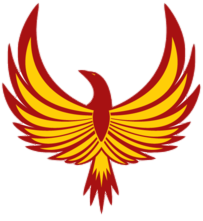 Arizona Firebirds

Division
South
Founded
1974
Inaugural Season
1974
Stadium
Sun Devil Stadium (1974–1975)
Sundome (1976–present)
City
Tempe, Arizona
Team Owner/President
Louis Steele
Head Coach
Nelson Mathis
Team Colors
Red, Gold, Orange, White
Division titles
1 (1976)
Victory Bowl titles
0
History
Arizona Firebirds (1974–present)
The Arizona Firebirds are a professional football team based in Phoenix, Arizona, United States. They are a member of the American Football Association, which they joined in 1974. They play their home games at the Sundome.
The Firebirds were created after Louis Steele, longtime owner of the Toronto Bruins had purchased the San Francisco Whales from Robert Culpepper, moving the Whales to Arizona and folding the Bruins. However, the Whales' name, logo, and history will remain in San Francisco to be used by a future expansion team of the same name, with the Firebirds themselves being considered a first-year expansion franchise.
Season-by-season results
Edit
Season
League
Division
Regular season
Postseason results
Finish
Wins
Losses
Ties
Arizona Firebirds
1974
AFA
West
4th
2
11
1
Missed playoffs
1975
AFA
West
4th
6
8
0
Missed playoffs
1976
AFA
South
1st
9
5
0
Lost Quarterfinals (Houston) 20–23 (OT)
Total
17
24
1
(includes only regular season)
0
1
0
(includes only the postseason)
17
25
1
(includes both regular season and postseason)